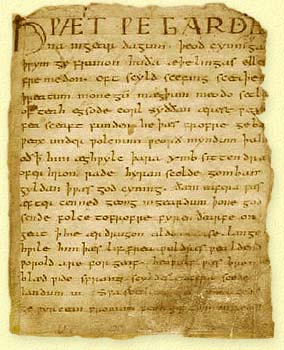 Isländska sägs ju vara det närmaste "antik-skandinaviska" man kan komma och ena sekunden så förstår man ju precis vad som sägs eller vad man läser. I nästa tycks man leva i en tecknad film när kroppen motvilligt formar sig till ett gigantiskt frågetecken.
"Smjörið er brætt og hveitið smátt og smátt hrært út í það, þangað til það er gengið upp í smjörið. Síðan er mjólkinni smáhellt út í, og hrært stöðugt í, til þess ekki fari í kekki. Þegar mjólkin er gengin upp og grauturinn orðinn vel jafn og saltið komið í, skal taka hann ofan. Með honum er borin saftblanda eða mjólk, einnig steyttur sykur og kanel."
Ord som mjólkin, honum, saftblanda, sykur och kanel kan man ju räkna ut innebörden (och detta gäller ofta substantiven). Med hjälp av dessa ingredienser kanske man kan gissa sig till att det är någon koppling till mat, men vem gissade på följande recept?
"The butter is melted and the flour stirred into it slowly but surely, until it has blended with the butter. Then the milk is slowly poured in, and stirred constantly, so it doesn't get lumpy. When the milk has blended well and the porridge has become steady and salt has been added, it should be taken off. It is served with a fruit juice mixture or milk, even ground sugar and cinnamon."
Blir kul att se hur min egen språkliga utveckling kommer att ske under mina kommande (regelbundna) besök på Island.